'You whine too much about running marathons – they're easy!' I'd mocked my boyfriend the day after finishing mine, wrapped under a duvet, wishing I had a cup of tea in my hands. Of course I was joking; he doesn't, and it had been hard, but somehow I'd expected it to be a lot tougher.
The numbers seemed intimidating at first: 42km and 1,300 metres of elevation gain. But in the end they were just that, numbers to get over with. Admittedly it wasn't a walk in the park, and finishing did feel like a great achievement, but doing a mountain marathon isn't this daunting, unapproachable task I'd played up in my mind to be.
I signed up to the Innsbruck Alpine Trailrun Festival K42 because I'd done the K25 the year before and had an absolute blast. Last year, 25km felt like a huge distance to me – especially considering the +1,000m of elevation gain – and my best friend and I were down for the challenge. This year, I was sure to go back, and step up the challenge a little.
I was lucky enough to have convinced fellow Mountain Trail Chaser Mirjam to come join me in Innsbruck and, whilst our plans of flying out together didn't work out, it made me incredibly happy to see her. It had been almost half a year since last time, when we'd raced the Maverick Silva Dark Series in Hampshire together.
The weather was meant to be terrible; showers from the moment the race started and the snowline coming down to 800m. The highest point in the race is roughly 1,000m. I had not prepared for that. Having jumped into a lake after last year's race and gone for a barbecue by the river in flipflops the day after, the last thing I expected was meeting snow as we climbed the trails higher up.
Yet the start was gorgeous; the rain had held off so far and we even got some spells of sunshine. The race started on wide forest paths that smelled of damp earth and fresh pine needles. It enabled us to get into a rhythm, faster runners making their way to the front of the pack, no need to wait around for people walking as soon as we hit a gradient on a single trail. There was enough room to overtake.
Having studied the elevation profile of the race, I knew that the first 8km were going to be mostly downhill, so I bolted down, somehow forgetting I had a marathon to go. I have read it in countless articles and heard it from many running friends; one of the worst – and most classic – mistakes you can make during a race is setting off too fast. Apparently, pacing is important.
But I couldn't help myself just then. I knew this was the 'easy' section, so I had to make gains. The sun was out, the trails were beautiful, I'm in love with running and I was doing exactly that, in one of my favourite places on Earth.
Innsbruck is, quite frankly, everything the word 'beautiful' entails. The colourful city lies within a wide valley and it's flanked by snowy mountain ranges on all four sides. Yet, unlike other mountainside towns, the mountains don't loom over it, so there's sunshine all day long wherever you go.
It's easy to get carried away running on the trails around Innsbruck, next to crystal clear rivers, single-trails through gorges and exciting muddy ridges. Who cared I still had over 30km to go? I could just picture myself on the lovely trails ahead – feeling like I could run forever.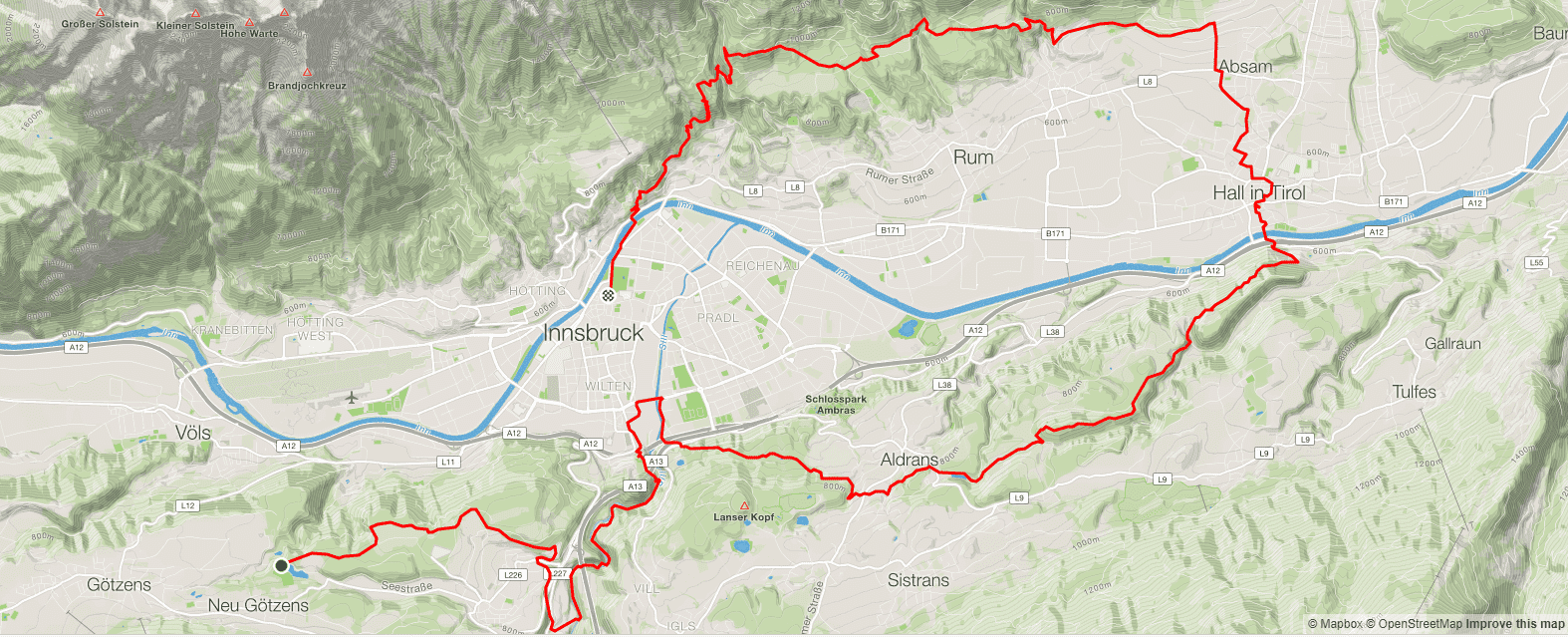 I realised my mistake right before hitting the second aid station, by km 17. Having a fair bit of experience running races up to 25km, I should have known better I suppose. Originally, I'd plan to skip the aid station altogether – why would you need aid stations roughly every 8km? 'Be a proper runner and rely on yourself only', was my thinking going into the race.
But by then I was feeling lightheaded and my mouth was relatively dry. Had I had listened to my body, I would have drunk something a lot earlier – the unexpected heat was getting to me. But I'd committed to the base layer, pinning my number on it at the start of the day, and so couldn't take it off.
I was craving sweet and salt. I'd taken a slice of cake – yes, there was actual homemade cake – and a banana at the first aid station, 8km into the race. It must have been a comical view, my running through the trails with a banana in one hand and a slice of cake in the other, munching on both at the same time like a little kid who didn't know better. I didn't need the fuel then, but I knew I'd be better off for it.
I loaded up again at the second aid station but, coming out of it, we were faced with a paved road on a hill. Unsure what to make of it, I laughed and joked around with Mirjam, who had just then caught up with me, before admitting to myself that I wasn't actually having fun.
She went on ahead not to be seen again until the end of the race, which she absolutely crushed.



Still, I kept moving and sure enough, once the tomatoes and salt and all the other little snacks I stuffed into my mouth hit my bloodstream, I was feeling happy again. I had slugged my way out of the aid station but as soon as the fuel hit my body I was running again; the next time I dared to look at my watch, I was already 31km into the race.
That's the beauty in running, you can't put it off. There's no point in procrastinating, the faster you move the sooner you'll reach the finish, so might as well get going. Slow or fast, every step is progress.
And when the going gets through, stunning mountain trails, captivating forests and bright yellow pastures spur you on. With breath-taking mountain views, it's hard not to consider yourself lucky to be able to run in such incredible places.
The Innsbruck Alpine Trailrun Festival is huge, and our route circled the city, passing through beautiful parts of the city before finding exquisite trails again.


Of course there were low moments; moments where your legs ache even in places you didn't know where part of you, moments where you wonder why you're out running instead of spending the Saturday eating an ice cream and moments where every step and every breath become a conscious effort.
But the thought of quitting didn't cross my mind for real, there were no moments where I thought the marathon had the better of me. Admittedly, my eating habits during the race did turn weird though; I was craving fuel so bad by the fourth aid station (29km into the race) that I hadn't swallowed a handful of black olives before I stuffed my mouth with gummy bears.
The combination of salty olives and sweet gummies was horrible, but I was glad for any food that second.
Recovering from my lack of better judgement, and spurred on by a pair of musicians playing Austrian folk music in Lederhosen at the aid station, I headed out to the trails again. Refuelled, I found myself overtaking runners on the uphill sections with my slow but consistent strides. 'Yes, you go girl!' a fellow racer encouraged me as I overtook her, and that was enough to shift my thoughts from tired spirits to a motivated mood again.
After an unsophisticated appearance at the last aid station, where I went from chocolate pudding to cucumber slices to Cliff Bar bites and then cheese, I had only 10km to go. And I would run 10km any evening, or at least that was the story I chose to believe in that moment.


For anyone who's not into running, a Parkrun (5km) might already seem like a long way to go. Two years ago, I met up with a friend for a run who, knowing I'd be too slow for him but not wanting to turn down the invite, went for a 20km run before running 10km – which already seemed like a long distance – with me. I didn't know if I was completely awed or wanted to call him a show off or just crazy.
But the more I run, the more those daunting numbers become just that, numbers. Once you realise you have it in you to run 5km, you might as well try 10km, and when 10km becomes your usual, then you go out and try 15km. At 15km you've almost hit the 20km mark, and by then you might as well do a half marathon. Kilometres stop being intimidating, and you find you're able to just head out and tackle them.
Concededly, before the Innsbruck Alpine K42 I'd only run more than 30km once in my life (at my first ultra marathon) and mostly stuck to 25km trail races. Running only became my main sport a year and a half ago. Before that, I'd go out for runs and never know what distance, pace, or how long I was out for.
Distances became intimidating when I started counting, but I had to train for my first ultra marathon last summer and so it was important I keep a record. Having finished the Magraid 100k, my approach to those distances changed – I'd never run a marathon before but here I was, finishing an ultra.
When that mindset changed, I was able to let my legs go lose on the hardest runs, defy gravity and sprint down a hillside, calculatingly jumping over roots and rocks and slippery terrain. And that's exactly what I did for the last stretch of the race.
I forgot about the possibility of slipping or falling and attempted to run down as if I were weightless. I decided to also forget about all the kilometres already covered and focus on the downhill with the pure, sheer joy of being able to spend a day like that on the mountains and demand your body to put up with whatever you choose to put it through.
The rain arrived only at the end of the race, and I felt the cold drops clean away the sweat from my face. It made for an epic finish. With renovated energy from the thought of being so close to the end I accelerated through the growing storm. Spectators started to appear on the sides of the course, encouraging me with their loud cheers to go faster.
And I did, crossing the finish line looking up at the sky, five hours and 18 minutes after having started, as the 35th woman, happy to be exactly where I was.
Mirjam, who had completed the 40km Razorback Run in Australia just the month before, absolutely smashed the IATF K42 coming through the finish line at 4:59:07 as the 26th woman.


Running a mountain marathon was a huge achievement and, odd enough, also a slice of cake.
–
A version of this article was originally published on BOXROX and can be found here.